VDSL Modem Con.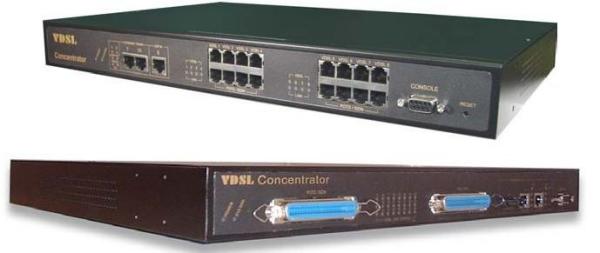 VDSL (Very High Bit-Rate Digital Subscriber Line) is the latest member of the xDSL family of technologies and it promises data rates up to 2 x 15 Mbit/s over a single pair of copper, as in telephone installations, and this up to a distance of 1.2 km, in some cases up to one mile.
pdf-Datei ..more Information
Specifications of the VRM01/8:
8 VDSL-ports with 2 10/100Mbps auto-sensing Ethernet ports in reduced-size model.
5/10/13 Mbps transmitting throughput with 1.0/1.2/1.5 km distance on 24 Awg phone wire.
Spectral compatibility with XDSL, ISDN(2B1Q/4B3T) Ethernet transport with POTS / ISDN traffic over single copper wire pair
Internal ISDN/POTS splitter reduces costs and improves reliability because one less device is needed in the network.
Unique management access software provides easy device configuration and ongoing management by Web interface.
Supports broadcast storm filtering.
Cascading up to 8 Units along with 8 + 1G switch
High performance with ARM 7 RISC CPU
Supports LACP IEEE 802.3ad Trunking
Supports GARP/GVRP IEEE 802.1p/q tagging-base VLAN with 256 groups.
Supports IEEE 802.1v protocol-base VLAN classification
Supports IEEE 802.1d Spanning trees for MAC bridge with redundant link.
Support Fan and Temperature management function
Fast address migration to support IEEE 802.1w Rapid reconfiguration.
Supports IP multicast/IGMP V1 with 512 groups for VOD
Supports IEEE 802.1p QOSSupports LACP IEEE 802.3ad Trunking
Supports port mirroring function
Supports SNMP v1 RFC-1493 Bridge MIBs,RFC-1643 Ethernet MIB,RFC-1213 MIB II,
Enterprise MIBsSupports RMON groups 1(Statistics), 2(Alarm), 3(Event), 9(History)
Supports TFTP/xModem for firmware upgrade
Integrated universal power supply for 85…265 V AC, power consumption 20 W
Specifications of the VRM01/24:
All functions of the 8 port device plus the additional here mentioned functions:
2 RJ21 connectors for VDSL and 24 filtering ports for ISDN or POTS (plain old telephone service)
Provides 1 x 10/100/1000Mbps auto-sensing RJ-45 port plus 1 x Giga RJ-45/GBIC (fiber) Auto-Link Ethernet port for Trunking or cascading.
pdf-Datei ..more Information