Passive Satellite Switches for high Current with 230 VAC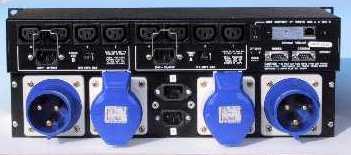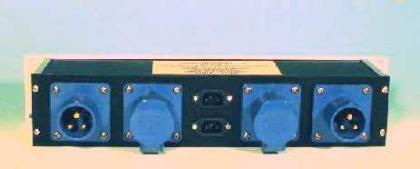 The Power Satellite Switches PSS16/32-2N are designed as an enhancement to the product portfolio of the Remote Site Management products from Multi Data Digital, known as SNMP Links, or to the AC/DC Power Switches. They provide current switching for 230 V AC.
The voltages can be derived from different sources, i.e. AC Mains or a high power UPS and are not connected at any stage inside the PSS, so both electrical circuits can switch the full current of 16A and they must not be from the same power source. The switching is done by interrupting both conductors of the power source which completely disconnects the power input from the output connectors.
Available Modell:
PSS-2-16Amp
Satellite to switch two outputs of 230 V AC, each up to 16 A
Required voltage to switch 230 V AC, each circuit max. 0.2 A
Switching control input 2 outlets IEC-320/C14
Voltage to be switched 230 V AC, 16 A
Input 2 IEC-309-2 Socket, Output 2 IEC-309-2 plug
To be installed into 19" cabinets or racks, 2HU
Every switched circuit is completely separated from the other circuit and there is no interference between both circuits
PSS-2-32Amp
Satellite to switch two outputs of 230 V AC, each up to 32 A
Required voltage to switch 230 V AC, each circuit max. 0.2 A
Switching control input 2 outlets IEC-320/C14
Voltage to be switched 230 V AC, 32 A
Input 2 IEC-309 Socket, Output 2 IEC-309 plug
To be installed into 19" cabinets or racks, 2HU, due to the locking mechanism of the plugs one additional HU is needed inside a cabinet or rack
Every switched circuit is completely separated from the other circuit and there is no interference between both circuits