Ethernet Serial Converter ( 1-Port Terminal Server) STE-10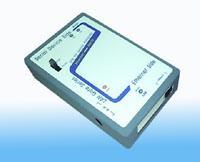 Description
The STE-10 Serial Access Unit is a low cost, compact, serial access server or terminal server for connecting asynchronous serial devices (RS-232) over Ethernet (10Base-T) using a TCP/IP protocol stack. The STE-10 may operate in either a client mode or as a server, allowing connection of a serial line directly over a LAN or WAN. Configuration may be performed either via the DB25 pin RS-232 port with an ASCII terminal or via Telnet and Ethernet connection to the RJ-45 LAN port. The serial port is DTE, which allows direct connection to DCE equipment such as Modems. For connection to other DTE equipment such as a PC, a NULL Modem or crossover cable is required.
FEATURES
Low cost, compact design.
Serial connection over Ethernet.
Operates in either server or client mode.
Complete TCP/IP protocol stack (OSI Network Layer 3).
Provides packetization of serial data.
SPECIFICATION
Hardware
CPU: 80188
ROM/RAM: 256K Flash/256K DRAM
LAN Interface: IEEE802.3 10Base-T Ethernet,RJ-45
connector
Serial Interface: EIA RS-232 Async serial, DB25M
connector
Baud Rates: 1200, 2400, 4800, 9600, 19200, 38400,
57600, 115200, 230400, 460800
Data Length: 5, 6, 7, or 8 bits
Parity: None, Odd, or Even
Stop Bits: 1 or 2 bits
Handshaking: None, RTS/CTS, or Xon/Xoff
Software
Flash ROM: Boot without network host;provision for easy software upgrades
Protocols: TCP/IP, ARP, ICMP protocols
Functions: Telnet / Reverse Telnet
Configuration: Telnet, ASCII terminal, or Remote
Dial-in
LED indicators: Power, LAN Link, Serial TD and RD
General
Power: AC 12V, 500mA
Temerature: 0~50¢XC
Humidity: 0~90%, non-condensing
Dimension: 135 x 79 x 25 mm (L x W x H)
5.3 x 3 x 1 inch (L x W x H)
Weight: 150g