Console Port Management Switch CMS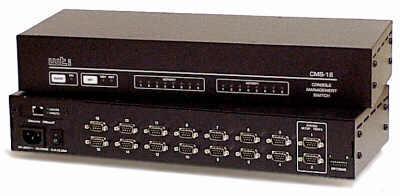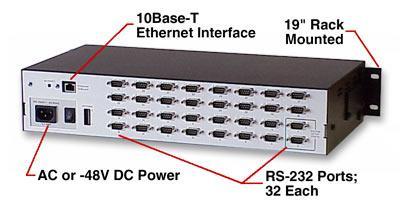 Asynchronous Port Switch for Telnet and Modem
The CMS Series has been replaced by the RSM Series of Terminal Servers !
Applications
Local or Remote Console Port Switching
UNIX Serial Console Management
Telnet or Dial-Up Access to Consoles at Remote Locations
Share Multiple Console Ports Using a Single VT100 Terminal or PC
In-Band/Out-of-Band Network Management
Features:
up to 32 RS232 DB-9 Serial Ports
10Base-T Ethernet Port
Modem Auto-Setup Command Strings (User Definable)
IP Security Features
Non-Connect Port Buffering
Up to the number of ports plus one simultaneous inbound Telnet Sessions
Co-Location Features
Any-to-Any Port Switching
Port-Specific Password Protection
Data Rate Conversion, 300 to 115K bps
No Software Required
Easy-to-Use Menu/Commands
Telnet and Dial-Up Console/AUX Port Switches
CMS Series Console Port Management Switches provide secure, in-band and/or out-of-band access to RS232 console ports and maintenance ports on UNIX servers, routers, and other network equipment. System Administrators can access remote devices in order to change configuration parameters, connect users to restricted ports, collect buffered data, and perform a variety of other administrative tasks. The CMS is ideal for colocation applications; two different password security levels protect access to restricted ports and configuration commands. Users are allowed to connect to only the ports provided by their passwords, while supervisors are allowed to connect to any port or invoke configuration commands. In addition to the convenient features found on our other CMS units, the CMS-32 also includes Syslog Reporting and SNMP capability. The CMS is available in 32, 16 and 8 port Models.
48 V DC Operation:
All CMS models are available with 48 V DC Power Supply