MDD Fiber-Serial: Fiberoptic Converters for asynchronous Transmission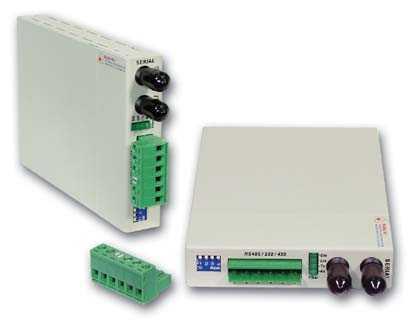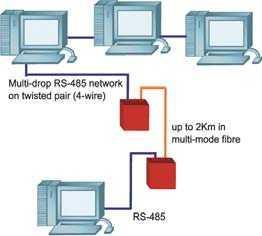 Low Cost, Economic Fiber Media
converterSupply +5V (60mA) output for external device
Selectable data I/F for RS-232/423/422/485/TTL (Transistor Transistor Logic).
Selectable for two or four wire RS-485/422
Description:
The FIB1-SERIAL is a fiber converter solution to extend RS-485 transmission distance up to 2Km over multimode fiber or up to 120 over single mode fiber. The converter is equipped with multiple interface circuits, for connection to RS-232, RS-423, or RS-485/422 (2 or 4 wire).
The FIB1-SERIAL secures data transmission over EMI immune fiber at speeds up to 256kbps for RS-232 or up to 1024kbps for RS-422/485. All media converters are available with connectors for SC, ST or FC. In single mode, WDM (Wave Division Multiplexing with SC connector) is also available in 20 or 40KM reach which will provide the ability to transmit and receive data using only a single optical fiber.
When the FIB1-SERIAL is linked to or installed in the FRM301, it allows network engineers to get greater functionality through advanced SNMP features. The network administrator can manage any converter module from anywhere on the network, detect any link loss and maintain each loop.