MDD-Fiber: Fiberoptic Modems and Converters for synchronous and asynchronous Transmission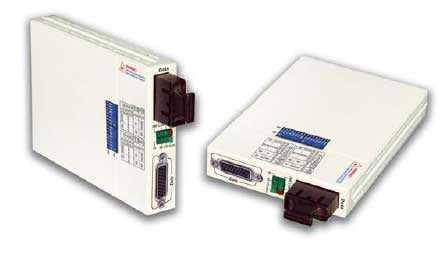 Description:
The MDD-FIBER Family of modems and converters are standalone or rack fiber media converters available in a number of different models that alsoact as line cards for placement in the MDD_FRM301 Platform Media Converter Chassis. The MDD-FIBER-DATA is a media converterfor V.35, RS-232, RS-530, X.21 or RS-449 high-speed synchronous or low-speed synchronous and asynchronous datatransmission over optical fiber media.
Download Overview of Products
All media converters are available with either multi-mode or single-mode optical tranceivers and with connectors for SC, ST, or FC. In single mode, WDM (Wave Division Multiplexing with SC connector) is also available in 20 or 40KMreach, which will provide the ability to transmit and receive data using only a single optical fiber.
When the MDD-FIB1-DATA card is placed in the FRM301 rack with SNMP management, the card status, type, version, fiberlink status, data link status and alarms can all be displayed. Configuration is also available to enable or disable the port,reset the port, set the data rate, modify the clock mode, and initiate local or far end loop back tests.