Fiberoptic Converters for G.703 (E1 and T1)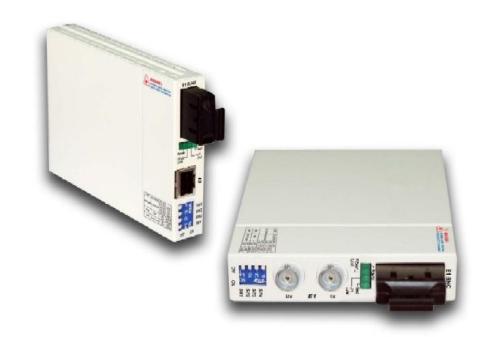 Description:
The FIB1 Family are the standalone fiber media converters available in a number of different models that also act as linecards for placement in the FRM301 Platform Media Converter Chassis.
The FIB1-E1 is a fiber media transport for G.703 E1 transmission. The BNC model provides unbalanced 75 Ohm coaxial connections while the RJ-45 model providesbalanced 120 Ohm connections over twisted pair wiring. The FIB1-T1 is a fiber media transport for G.703 T1 transmissionand features an RJ-45 connector for connection to 100 Ohm twisted pair wiring.
All media converters are available with either multi-mode or single-mode optical tranceivers and with connectors forSC, ST, or FC. In single mode, WDM (Wave Division Multiplexing with SC connector) is also available in 20 or 40 km reach which will provide the ability to transmit and receive data using only a single optical fiber.
Download Overview of Products
When the FIB1-E1 or T1 card is placed in the FRM301 rack with SNMP management, the card status, type, version,fiber link status, E1 or T1 link status and alarms can all be displayed. Configuration is also available to enable or disable the port, reset the port, do far end fault setting, and initiate local or far end loopback tests.