G703/E1-U: - G.703 (E1) Converter for unframed Transmission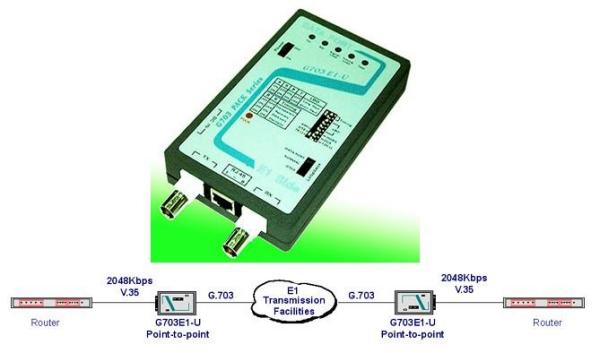 The G703E1-U Access Unit are single port access units for Unframed E1 services. The Data Port rate is fixed at 2048kbps (Unframed E1 only).
User data is transmitted transparently on the E1 channel. The main E1 link may be clocked from the recovered receive clock (LBT), from the data port, or from an internal oscillator.
The data channel interface is RS-530 (EIA 530) standard on a DB25F connector. Adapter cables are available for V.35, X.21 and RS-449.
The G.703 port provides for either 75 Ohm unbalanced connection via BNC connectors or 120 Ohm balanced connection via RJ-45/48. The G703E1-U DIP and slide switches, located on the front panel, provide for easy setup and control of all functions.
FEATURES:
LTU (Line Terminating Unit) built in unit.
Single port access to Unframed E1 services.
Interface conversion between G.703 and RS-530, RS-449 (V.36), X.21 or V.35.
Data rate: 2048Kbps.
Fully transparent signal conversion.
Clock Regeneration from incoming HDB3 data.
Diagnostic Loopbacks both for G.703 and Data Port sides.
All ones monitor.
Decoded data in NRZ form.
SPECIFICATION:
G.703 Specifications
Type Bidirectional (E1) 2048kbps.
Line 4wire, 26-16AWG.
Range Up to 1500 meter,
24AWG or better.
Impedance RJ-45/48 120 ohm (balanced). BNC 75 ohm (unbalanced).
Pulse amplitude 2.37V nominal for BNC, 75 ohm. 3.00V nominal for RJ-45, 120 ohm.
Zero amplitude +/-0.1V max.
Clock freq. 2.048 MHz.
Freq. Tracking ±50ppm.
Jitter Complies with ITU-T G.823
Connector RJ-45/48 or BNC.
Complies with ITU G.703 and G.823.
Frame format Unframed.
Line code HDB3/AMI selectable.
Data Port Interface Specifications
Type RS-530/DB25 Standard or V.35, RS-449(V.36) or X.21 with adapter cable.
Data rate 2.048Mbps.
Connector DB25/F with adapter cable.
Line code NRZ
General Specifications
Power: AC 110/230V 50/60Hz adapter to DC 9V
Temp. range: 0 C to 50 C
Humidity: 10% to 90% relative humidity, non-condensing.
Dimensions: 19.2cm (L) x 10cm (W) x 2.4cm (H)
Weight: 400g net